Council Rock Education Foundation Announces More than $35,000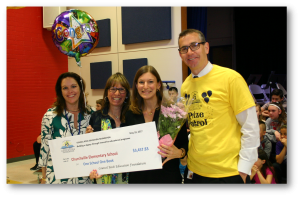 for Innovative Learning Grants in Council Rock Schools
The Council Rock Education Foundation announced more $35,000 in Innovative Learning Grants to teachers to benefit thousands of students throughout the district, helping to nurture young minds through innovative and creative S.T.E.A.M. learning.
During a recent school board meeting, Superintendent Dr. Robert Fraser congratulated the new award recipients and the Education Foundation for their dedication and commitment to Council Rock students.
"I applaud our educators for their creative spirit and continually seeking new ideas to enhance the Council Rock educational experience for our young learners. In partnership, the Education Foundation is a valuable resource in supporting the district's goal to provide the best possible learning opportunities to our students," he said.
Wrightstown Elementary School teacher Charlene Borah received funds to expand S.T.E.M. (science, technology, engineering, and math) for K – 4th-grade students. "This will expand our current S.T.E.M. program to be more inclusive and with our kindergarten through second grades", says Borah. "Our students will explore coding and programming as they enhance mathematical skills in the areas of sequencing, estimation, and problem-solving."
Melissa Metzler, a 7th and 8th grade autistic support teacher, is one of the new awardees for the Unless Project at Philadelphia Zoo. "This grant will allow us to incorporate functional, school-based activities into project-based learning while weaving social communication skills into a service-learning project for our students which includes social problem solving, functional communication, interpersonal negotiation skills, compromise, written communication skills and giving/receiving critical feedback."
At Hillcrest Elementary, first-grade teachers received a grant that will allow them to work with small groups of 21st-century learners utilizing technology.
Newtown Elementary School received a technology grant that will enable students to take virtual field trips, interact and collaborate with people around the world in areas of expertise such as authors, scientists, archaeologists, as well as students in other classrooms both in and outside of the Council Rock School District.
Additional funded project areas include literacy, technology, diversity, the Arts and special education.
"These grants would not be possible without the generosity of businesses and individuals throughout the community who believe in supporting innovation in public schools," said Gail Acosta, the Foundation's executive director. "When a child makes a cognitive connection through innovative projects like these, it stimulates their mind for greater understanding. As a foundation, we always seek ways to develop and expand educational initiatives that engage, educate, and inspire our young people here in the Council Rock School District."
The evening marked a milestone for the Education Foundation, a tax-deductible non-profit 501C3 fundraising arm of the school district, as their tenth year funding innovative projects not covered by the annual school budget in Council Rock Schools. In 2007, the Foundation funded its first grant for $1,500 for a project called Camp Ophelia. Since then they have awarded over $200,000 for creative initiatives with the help from corporate and individual partners year after year.
For more information about the Council Rock Education Foundation, please visit their website at www.creducationfoundation.org or contact Gail Acosta at 215-944-1023.
This year's Innovative Grant Award Recipients for the upcoming 2017-2018 academic school year are as follows.
 STEM Expansion: It's Time to Expand – The Dr. Beth DuPree Honorarium Grant
– Charlene Borah, Paula Etgen & Jennifer French, Wrightstown Elementary
The Sky(pe) is the Limit for Wrightstown & Newtown! 
– Paula Etgen, Jennifer French & Susan Keen, Newtown & Wrightstown Elementary
– Terese Grateful, Council Rock North
 S.T.E.A.M.ing Towards Arts, Education & Community
– Tyler Hone, Village Library of Wrightstown
– Christy Lazzarino, Free Library of Northampton Township
Accepting Me Accepting You Initiative
–Jeanne Lindros & Kathleen Hornberger, Rolling Hills Elementary School
Unless Project at the Philadelphia Zoo – The Rick Moore Memorial Fund
– Melissa Metzler & Lisa Buonora, Newtown Middle School
Check-out STEM @ Your Library
– Kathleen Pagano, Council Rock North
 Richboro Elementary School Library Mural – In Memory of Robert H. Winters
– Kristina Veale & Hilary Adams, Richboro Elementary School
– Joseph Warwick & Fred Bauer, Council Rock South
– Lisa Weiss, Churchville Elementary
 STEM Implementing Technology into 1st Grade Math Learning Centers 
– Mary Whittle, Pam Longstreet & Amy Moore, Hillcrest Elementary School