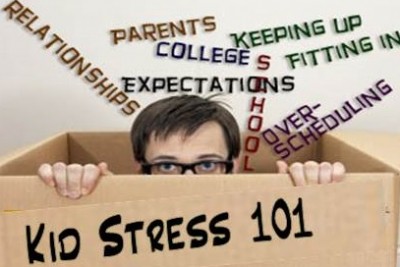 Whether it is schoolwork, friends, parents, or expectations, children are experiencing more stress and anxiety than ever.   And although anxiety is a normal part of growing up, when it becomes extreme, it can interfere with a child's behavior, education and overall happiness.
On Tuesday, October 20th at 7 pm at Council Rock High School North, Dr. Katherine Dahlsgaard will lead a discussion on anxiety issues and how parents can help their kids learn to deal with stress in a healthy way.    Dr. Dahlsgaard is Lead Psychologist of the Anxiety Behaviors Clinic at the Department of Child and Adolescent Psychiatry at The Children's Hospital of Philadelphia (CHOP) and is well known throughout the region for her down-to-earth presentations about childhood and teen anxiety.
"Anxiety can be a major road block to so many students, impacting them in and out of school" says Stephanie Warshaw, social worker with the Council Rock School District.  "Dr. Dahlsgaard is not only an expert on this subject, she is a dynamic and engaging presenter.  Parents, teachers and anyone who works with children or teens will learn a lot of useful tips from her about how to help kids handle their anxiety."
Presented by the Council Rock Coalition for Healthy Youth (CRCHY) and the Council Rock Education Foundation (CREF), and sponsored by the Children's Hospital of Philadelphia, this is the first program of this year's Raising Great Kids Speaker Series.  These events are FREE and open to the public and always conclude with a period of Q&A.
In order to prepare the appropriate number of materials for each event, interested attendees are asked to RSVP their interest online at www.creducationfoundation.org  or RSVP to CREF@CRSD.ORG.  Registration is encouraged, but not required.  For more information on this and other Raising Great Kids programs visit www.creducationfoundation.org or www.CRCHY.org.