THIS EVENT IS SOLD OUT!  
This article appeared in the Bucks County Courier Times on March 9th:
Former NBA player, recovering addict to speak at Council Rock North April 8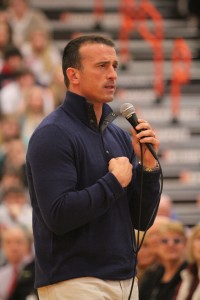 Bucks County Courier Times
By Chris English Staff Writer | Posted: Monday, March 9, 2015 4:00 am
Former NBA basketball player and recovering addict Chris Herren will be speaking in April at Council Rock North.
Former National Basketball Association player and recovering drug addict Chris Herren will speak about his experiences during a presentation at Council Rock High School North at 7 p.m. April 8.
Herren's talk, titled "Rebound, The Chris Herren Story," is a presentation of two nonprofits within the Council Rock School District, the Council Rock Coalition for Healthy Youth and the Council Rock Education Foundation. It is part of the two groups' Raising Great Kids community speaker series.
A high school star in Fall River, Massachusetts, Herren played college basketball at Boston College and Fresno State before a brief NBA career from 1999-2001 with the Denver Nuggets and Boston Celtics. He used cocaine and heroin throughout his college and later years, according to published reports.
"Alcohol and drug free since Aug. 1, 2008, he has refocused his life to put his sobriety and family above all else," said promotional literature for Herren's Council Rock appearance. "He shares his harrowing story of abuse and recovery in his memoir, 'Basketball Junkie,' as well as in numerous interviews including one on the Emmy nominated ESPN Films documentary 'Unguarded.'
"Please join us for an inspiring presentation featuring former NBA player Chris Herren," it continued. "A tale of descent into addiction, a miraculous recovery and his new life mission: to share his story with audiences in the hopes of reaching at least one person and making a difference in their life."
The program's cost, including Herren's fee, is being paid for by 1999 Council Rock High School (now Council Rock North) graduate Chris Mahony, who played basketball there.
"I was fortunate enough to have a great support system of influential teachers and coaches and for that I'm forever grateful," said Mahony. "With that in mind, I think it is important to give back and I believe that Chris Herren's message is extremely powerful and will have an impact on everyone who attends."
Officials from the nonprofits said Herren's fee is significant but they are not permitted to disclose the amount because it would breach the contract with Herren's agent.
"This is an important message for our students," said Buff Raddick, Mahony's coach at Council Rock and now the athletic director at Council Rock High School South in Northampton.
"Addiction is a danger for everyone, even for a talented athlete," Raddick continued.
"Substance abuse continues to be an issue for the youth of our community," said Council Rock Coalition for Healthy Youth Director Debbie Moskovitz. "Studies show that 74 percent of teens say their parents are the number one influence on their decisions about drug and alcohol use, so we encourage every parent to attend the presentation and discuss your expectations about drugs and alcohol with your children frequently."
Council Rock North is at 62 Swamp Road, Newtown Township.
More information: 215-944-1023.