Former NBA player tells Council Rock North audience about his life of addiction, recovery
By Chris English Staff Writer | Posted: Wednesday, April 8, 2015 9:45 pm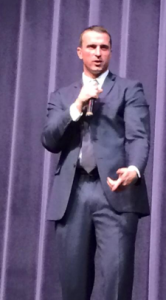 Click HERE for video interview
Former NBA player and recovering drug addict Chris Herren speaks to community members about addiction, prevention and his experiences in the at Council Rock North auditorium on Wednesday, April 8, 2015.
With 1,100 people at Council Rock High School North in Newtown Township hanging on every word, a former college basketball star and NBA player told his tale of a career and life derailed because of drug and alcohol addiction, and then put on track again one day at a time.
As with the other 250 talks he gives every year at schools across the country, Chris Herren said his hope was that at least one person in Wednesday night's audience at Council Rock North walked away determined to change his or her life.
"By speaking, I just pray one person will walk out and say 'I don't like who I am, I want to get better,' " he said.
In a program presented by the Council Rock Coalition for Healthy Youth and Council Rock Education Foundation, Herren spent more than an hour telling his life story of a talented athlete who fell deep into the hole of addiction.
Though already a heavy alcohol drinker while a high school basketball star in Fall River, Massachusetts, Herren said his 14-year struggle with addiction started in earnest after he accepted a basketball scholarship to Boston College. Soon after arriving, Herren said the girlfriend of his roommate convinced him to snort a line of cocaine.
Three failed drug tests later, Herren was dismissed from the Boston College team but was given a second chance at college basketball by Fresno State coach Jerry Tarkanian.
Playing through his addiction, Herren — a 6-foot 2-inch point guard — performed well enough for the next three years to be drafted in the second round by the Denver Nuggets. A year later, he thought he had realized his dream when he got a call from Boston Celtics coach Rick Pitino — now the coach at Louisville — that he had been traded to the Celtics.
But by that time, Herren's addiction had spread to Oxycontin."What should have been my dream come true was my nightmare beginning," he said. "One night I was told by coach Pitino I would be starting at point guard, but I didn't care anything about the Celtics or the parquet floor or anything at that point except getting those yellow pills."
Herren said he gobbled Oxycontin just before being introduced that night and doesn't even remember his introduction because of the influence of the pills.
Things got worse. Herren moved from the Celtics to a short career with professional teams in Europe but by that time he was also a regular heroin user.
"I walked away from a $500,000 contract with a team because I just couldn't perform, and instead ended up having to pay a $75,000 buyout of the contract," Herren said. "I flew back to the states but instead of going back to my wife and kids, I flew to California to the house of a friend and former football player at Fresno. We shot heroin and cocaine for five straight days."
That Fresno State friend ended up getting shot in the back of the head, along with his personal assistant, in a drug-related execution-style double homicide, Herren said.
He said he remembers being homeless for a while, and sleeping behind a 7-Eleven and spending most of his last $17 on vodka. After four overdoses and a suicide attempt and other troubles, the turning point finally came for Herren on Aug. 1, 2008, when he "hit his knees" at a treatment center and asked God for help.
Herren said he's been drug and alcohol free for more than six years and has dedicated his life to doing what he can to prevent others from traveling down his path.
One of the keys is getting at the root reasons for why children feel the need to start abusing drugs and alcohol, Herren said.
"Most of it is because of insecurity," he said. "Most are drinking and partying because they don't feel tough enough or cool enough. Too often when a kid is found doing alcohol or drugs we ask about all the hows of how he or she got it and who else was there and everything, and we don't ask enough about why they did it. Looking back, I just wish I had felt better about myself and who I was."
Giving kids facing the temptations of alcohol and drugs avenues for help is very important, Herren said.
"Wellness should be a core class in schools nowadays," he said. "I don't know if kids have enough places to talk. We don't create enough of a forum for that. If a kid is bullied in the hallway, where is he going to talk about it, in American History class?"
The cost of Herren's appearance at Council Rock North was covered by 1999 Council Rock graduate Chris Mahony, a former basketball player at the school who said he felt it was important that Herren's message be heard there.
In addition to Council Rock district residents, parents and students, including many athletes, Wednesday night's audience included many recovering addicts and members of sports teams and athletic groups from other schools and communities, officials from the coalition and foundation said.