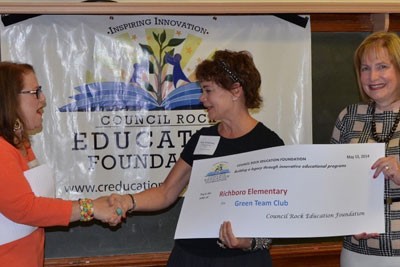 At the May 15th School Board meeting, the Council Rock Education Foundation distributed $35,000 in Innovative Learning Grants to teachers and classrooms throughout Council Rock.    "This event marks a very special milestone," said Suzanne Wray, the Foundation's Executive Director, "as of this year, the Foundation has invested over $100,000 in Council Rock schools!"
Art teacher and district art coordinator Beth Lynch will use her CREF Innovative Learning Grant to launch an "I-Motion" digital movie initiative.  "This program will give all third graders in Council Rock the opportunity to explore the role of artist, photographer, digital editor and art critic through creating claymation movies"  said Lynch.    "I can't wait to see their faces next year when we start working on this – it is a great multi-disciplinary project that will give each child a chance to contribute to the end product."   Lynch plans to feature each school's movies at the April 2015 District Art Show.
"In order to increase the impact and encourage teachers to really think "out of the box" the minimum grant amount was increased this year to $5,000" said CREF Board Co-President Allison MacGahan.  "As a result, we were able to fund more programs that will impact students across the district, in addition to piloting innovative programs in individual classrooms and schools."
Rolling Hills teacher Colleen Aubel received $5,000 in support of the WeatherBug Station -a STEM-based learning opportunity for the entire Rolling Hills student body.  "We are thrilled to be able to implement this new technology for our students," said Aubel, who teaches 5th grade.  "Every class will have the opportunity to analyze weather and observe, measure and collect data and we hope that these experiences will help to engage kids' interest in science and technology at a younger age."

Additional grants include a Literacy program for struggling readers, a pilot LMS technology program for high school students, peer-mentoring programs involving the autistic support students, an aeronautic hexacopter design/build program, and  a STEM Solar energy program for all elementary schools.
Although unable to attend the presentation, Superintendent Mark Klein extended his congratulations to the Foundation for their dedication and commitment to the students of Council Rock. "The Education Foundation has become an important resource in supporting the District's goal to provide the best possible educational opportunities to our students."
For more information about the Council Rock Education Foundation and how the community can support their efforts, visit their website at www.creducationfoundation.org.