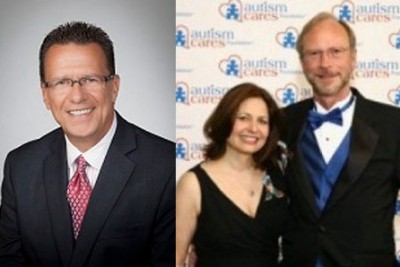 Linda and Frank Kuepper, founders of Autism Cares Foundation, and Rick Rogers, Senior Vice President of UBS Financial, will be honored during a breakfast event at the Chancellor Center.
Posted on Newtown Patch by Kara Seymour , May 06, 2014 at 02:23 PM (http://newtown-pa.patch.com/groups/schools/p/education-foundation-to-honor-community-partners-on-may-28?ncid=newsltuspatc00000001&evar4=picks-3-post&newsRef=true)
The Council Rock Education Foundation will celebrate and honor the accomplishments of three outstanding community partners during an event May 28.
The CREF this year will honor Linda and Frank Kuepper, founders of Autism Cares Foundation, and Rick Rogers, Senior Vice President of UBS Financial.  According to an announcement from the Foundation, this year's honorees have "made extraordinary contributions to the community and the students in the Council Rock School District."
A breakfast to honor the community partners will be held at the Chancellor Center on May 28th from 7:30-9 a.m. The event is open to the public.
Tickets are $30 per person and are available online or through the Education Foundation website www.creducationfoundation.org.
Richboro residents Linda and Frank Kuepper founded the Autism Cares Foundation in 2008 to provide life-enriching opportunities for children, teens and young adults with autism, including weekly fitness classes, a glee club, sensory-friendly movies, and important social events including an annual prom, according to information from CREF
"Linda and Frank's efforts have been a lifeline for hundreds of families in this community" said Roe DeLuca Blumenthal, a parent who supports and volunteers for the organization. "For many of us, Autism Cares activities are some of the only chances our kids have to socialize in a fun and safe setting. Their iPad Enrichment Program has provided them not only with academic enrichment but for some, like my son, a voice."
Rick Rogers has been donating his time to area nonprofit and community groups for over20 years.  "Rick was instrumental in the creation of Newtown's First Night New Year's Eve celebration," said Mick Petrucci, President of the Newtown Business Association.
In addition to serving on the boards of the Newtown Foundation and Bucks County Free Library, Rick also plays an active role with the Newtown Rotary's youth leadership committee. "Through Rick's leadership and enthusiasm, the Rotary's Interact Club now involves more than 80 high school students," said Jake Doneker, President of the Newtown Rotary.  "Rick has also been an extraordinary influence on and mentor to our two exchange students at CR North this year."
CREF is an independent 501c3 non-profit organization dedicated to providing innovative education programs in Council Rock.
Over the past six years, the Education Foundation has awarded 53 grants and more than $84,000 to teachers and classrooms throughout Council Rock.
"The focus of these grants are to allow teachers to be creative and do programs and projects that are not covered by the regular school budget," said Suzanne Wray, Executive Director of CREF.  "These funds are available to all teachers, staff and PTO groups who want help to bring an innovative program or project into reality."
To learn more about CREF, or to make a donation or volunteer services, please visit their website at www.creducationfoundation.org.