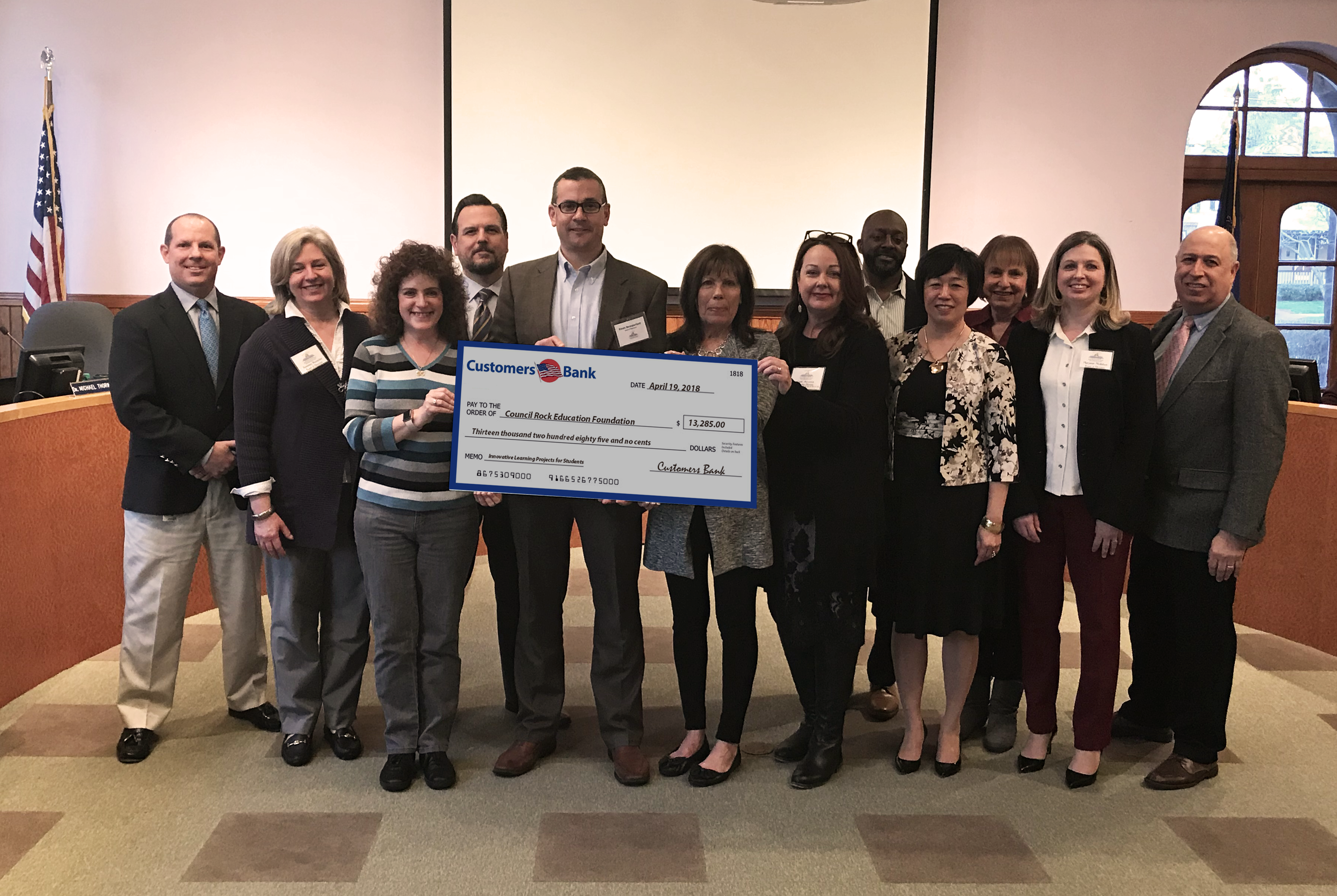 Council Rock Education Foundation (CREF), a private 501(c)(3) non-profit that funds initiatives and provides advanced opportunities for students in the Council Rock School District, announces that Customers Bank has contributed more than $13,000 to support district-wide initiatives including the Districtwide Embryology Project, District Science Night and other S.T.E.A.M. (science, technology, engineering, The Arts, and Math) projects.
The Embryology Project is an innovative District-wide S.T.E.A.M. (science, technology, engineering, art and math) project that allows more than 800 4th graders the opportunity to learn about the stages of embryonic development as they incubate, observe, record data, and hatch avian eggs. This interactive learning project enhances the current Council Rock School District 4th-grade curriculum.
Part of Customers Bank's gift will support this year's annual Council Rock District Science Night, on Thursday, May 17 from 6 – 8 PM at Council Rock South. This event helps students and families strengthen their STEM-based skills and knowledge through more than twenty-three hands-on activities including the Digital Starlab, 3D Drone design & creation, and others.
"Customers Bank's generosity provides vital funding for student initiatives not covered by the annual school budget. Our Education Foundation, along with local businesses, helps support a vibrant and robust community of innovative programs that enhance our students' learning experiences," said Dr. Robert Fraser, Council Rock School District Superintendent and CREF Board Member.
"Customers Bank is committed to supporting local partners like CREF, who dedicate themselves to igniting our children's passion for learning," said Kevin Beauparlant, Co-President and Co-Chair of CREF's Board, and Vice President at Customers Bank.  "We're thrilled to support this year's Council Rock District Science Night, and the Embryology Project as well."
Since 2007, the Council Rock Education Foundation (CREF) has proudly enhanced the learning experience of Council Rock students. In only ten short years, the Education Foundation, in partnership with generous donors, has directly impacted thousands of students by awarding more than 110 Innovative Learning Grants totaling more than $240,000 to Council Rock teachers and classrooms. These projects, not covered by the annual budget, engage, educate and inspire young minds through experiential learning, igniting their passion for continued education.
About Customers Bank
Customers Bancorp, Inc. is a bank holding company located in Wyomissing, Pennsylvania engaged in banking and related businesses through its bank subsidiary, Customers Bank. Customers Bank is a community-based, full-service bank with assets of approximately $9.9 billion at December 31, 2017. A member of the Federal Reserve System with deposits insured by the Federal Deposit Insurance Corporation, Customers Bank is an equal opportunity lender that provides a range of banking services to small and medium-sized businesses, professionals, individuals and families through offices in Pennsylvania, D.C., Illinois, New York, Rhode Island, Massachusetts, New Hampshire, and New Jersey. Committed to fostering customer loyalty, Customers Bank uses a High Tech/High Touch strategy that includes use of industry-leading technology to provide customers better access to their money, as well as Single Point of Contact banking by appointment at customers' homes or offices 12 hours a day, seven days a week. Customers Bank offers a continually expanding portfolio of loans to small businesses, multi-family projects, mortgage companies and consumers. Customers