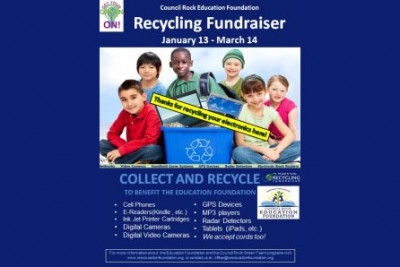 Benefits CREF and The CR Green Team
Between January 13 and March 14, each school in Council Rock will be participating in a CREF-Green Team recycling fundraiser. Bins will be available in all schools to collect: Cell phones, inkjet cartridges, laptop computers & netbooks, iPads & tablets, iPods & MP3 players, digital SLR cameras and lenses, digital cameras & camcorders, handheld game systems, game consoles (Xbox, Wii, PS3), range finders & sky caddies, GPS devices & radar detectors, ebook readers, mobile hotspots and MiFi devices, 4G USB air cards and graphing calculators. Last year, this fundraised raised over $1400 for Green Team efforts and CREF grants.
If you have any of these items, please donate them in the boxes in each school. Funds raised will support innovative programs through CREF and the Green Team and emphasize the green message, to students and parents, that recycling is an ongoing commitment to protecting our planet.
Please support CREF and send these items in with your students! Any questions please contactoffice@creducationfoundation.org