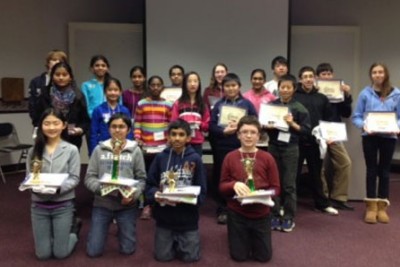 CREF Supports the You Be the Chemist Challenge
Congratulations to the four Council Rock students who advanced to the State Finals of the "You Be The Chemist" Challenge! The Education Foundation is thrilled to be supporting this great program through a CREF Innovative Learning grant.  Twenty CR students qualified to represent Bucks County in the regional competition on March 17th at Dow Chemical and the four winners will advance to the State Competition at Penn State next month.  We wish Rishi, Andrew, Margaret and Krishna the best of luck at Penn State on April 26th!
Regional winners from l to r: 3rd place:Margaret Zheng-Newtown Middle; 1st place:Rishi Mago-Newtown Middle;  4th place:Krishna Mysore-Richboro Elementary and 2nd place:Andrew Tillery-Holland Middle.

CREF applauds the 20 Council Rock Students who participated at the Regional You Be the Chemist Challenge:
Churchville Elementary: Jhanvi Dasaka;
Goodnoe Elementary: Meghana Dodda, Divya Sammeta and Lorena Ye
Newtown Elementary: Jenny Jin, Eric Wang and Patrick Wang
Richboro Elementary: Krishna Mysore
Holland Middle: Josh Belder, Anna Gogoiberidze, Andrew Tillery, and Syed Waseem
Newtown Middle: Aparna Dev, Henry Liu, Rishi Mago, Nicole Nemzer, Shakti Ramnath, Davis Wojnovich, and Margaret Zheng
For more information about how to get involved with the You Be the Chemist Challenge program click here.