Honoring Dr. Beth Dupree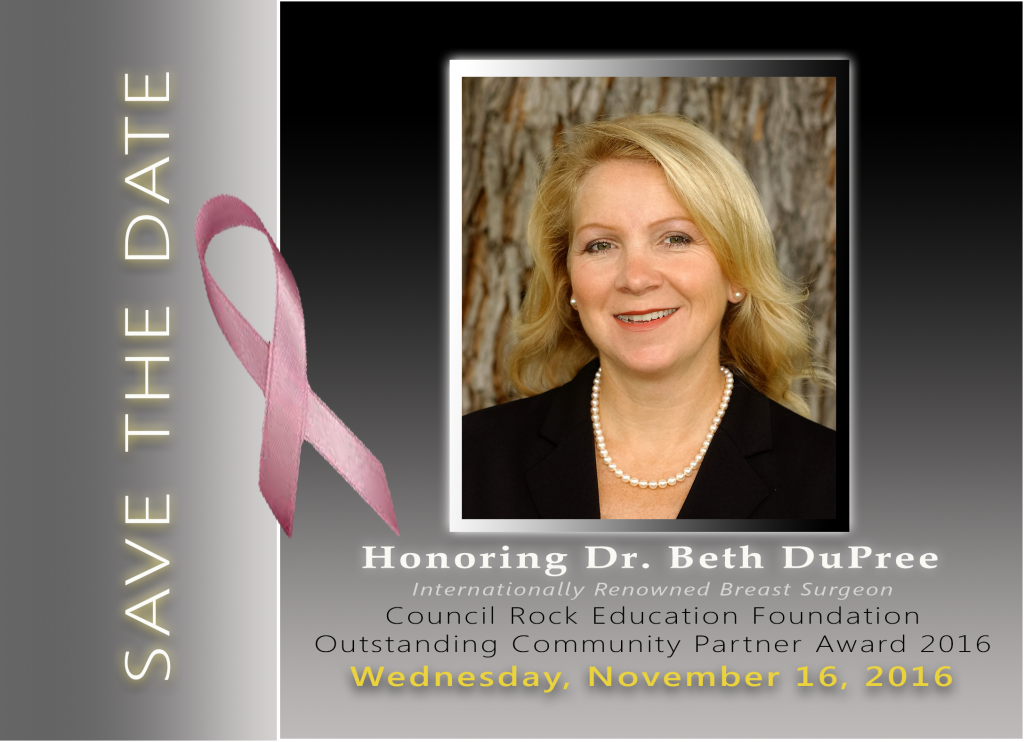 Dr. Beth DuPree to Receive CREF Outstanding Community Partner Award
The Council Rock Education Foundation (CREF) has named internationally renowned breast surgeon, Dr. Beth DuPree as their 2016 Outstanding Community Partner. Through her care of many Council Rock families and mentoring of students interested in pursuing a medical career, Dr. DuPree has left a profound imprint on the Council Rock community, and beyond.
Please join us on Wednesday evening, November 16, 2016, to celebrate and honor the accomplishments of this very special individual, Dr. Beth DuPree, and her extraordinary gifts.
Dr. DuPree will share her journey as a surgeon; integrating healing therapies with state-of-the-art western medical care, helping patients find a balance between mind, body, and spirit.
Celebration dinner includes; cocktail hour, full-course dinner, and awards ceremony, located at The FUGE – a unique reception space featuring the famous Johnsville Centrifuge – the largest, fastest centrifuge ever built, where every NASA astronaut who walked on the moon trained!
Click here for online tickets options online and here for more engagement options.
For questions about the event, or sponsor opportunities, please contact Gail Acosta at gacosta@creducationfoundation.org or 215-944-1023.