CREF Innovative Learning Grant Application
The Council Rock Education Foundation enhances and enriches the quality of education for students throughout the Council Rock School District. Each year, the Education Foundation awards innovative and creative ideas designed by faculty and staff that engage children through experiential learning. These projects, not covered by the annual school budget, help engage, inspire, and educate youth and foster their passion for continued learning. Annual grants are awarded through a competitive application process and support the District's strategic priorities. 
2023-2024 Grant Cycle Key Dates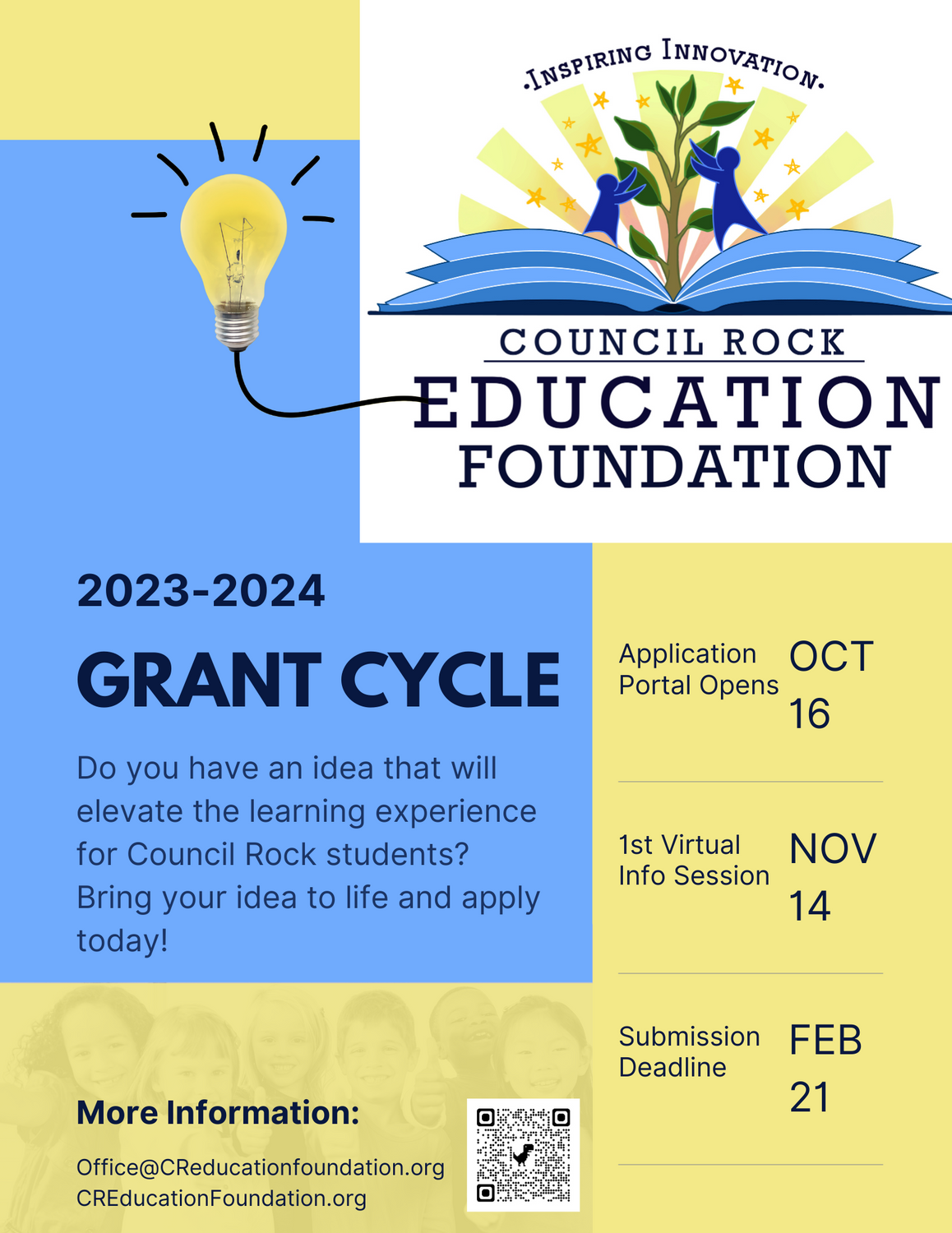 PLEASE REVIEW CREF GRANT GUIDELINES AND PREVIEW APPLICATION BEFORE SUBMISSION!

October 16, 2023 – Online application portal opens

ALL APPLICATIONS MUST BE SUBMITTED ONLINE VIA THE PORTAL

November 14, 2023 – Virtual information session – 7:15pm
January 23, 2024 – Virtual information session – 7:15pm
February 21, 2024 – Submission deadline
April 22-April 30, 2024 – Winners notified via Prize Patrol!
May 16, 2024 – Tentative Grants reception
---
Who can apply?
All Council Rock School District staff
Community organizations that support Council Rock students
Council Rock PTO/PTA/HSAs
---
What project/programs can you propose?
The Council Rock Education Foundation considers projects/programs in all curricular areas of the Council Rock School District. CREF will award grants for projects/programs that enhance and elevate the district's curriculum. Below are examples of CREF funded initiatives:
Science: Family Science Night, NASA Space Station Project, Robotics Academy, Exploring the World Through VR, Embryology Project, Outdoor Classroom, NASA/GLOBE Outdoor STEM Weather and Climate Citizen Science, GreenHouse Project
Technology: Coding Clubs, Interactive Display Using Hummingbird, 3D Print Maker, Awesome Autoclaves, Tello Drones, STEAM-Rolling with Sphero
Engineering: Rock Rovers NASA Project, Egyptians and Engineering, Laser Logo Project Arts and Humanities (visual arts, music, theater, and dance): Ukulele Buddy, Sewing up
Success, Multimedia Image Creator
Math: 21st Century Math
Social Studies (civics and government, economics, geography, history, and student interpersonal skills): Effective Environment…Where History Comes Alive, Historical Literacy Project
Language Arts (reading, writing, speaking, and listening): Reading Around the World, VOX Books for All Students, WES Wordsmith
Special Education: Green Team Autism Club, Kids with Heart, Inclusive Practices, ACHIEVE Coffee Cart, the Friendship Bracelet project, Switch On
Health and Physical Education: Bike Safety, District Suicide Prevention Program QPR, Sensory Zone, Using Children's Literature to Support Social and Emotional Learning, CALM (Confident Active Learner Minds)
---
Application Tools
---
Take a look at other funded projects.