Every year, your annual gift makes a difference.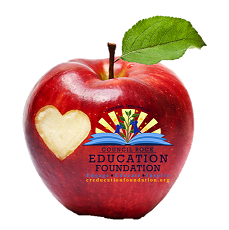 Tell me and I forget, teach me and I may remember, involve me and I learn.
~ Benjamin Franklin
December 10, 2018
Dear Council Rock Community,
Appearing above is one of my favorite quotes by Benjamin Franklin. To me, it resonates with the work of the Council Rock Education Foundation (CREF). I witness students become excited about learning through the many innovative hands-on projects funded by the Education Foundation. Personally, there is nothing more satisfying than seeing a child's enthusiasm for learning come to life and blossom.
Since 2007, the Council Rock Education Foundation, a 501C3 organization, has supported the unmet needs of K-12 classrooms in the Council Rock School District. CREF establishes teacher classroom S.T.E.A.M. (science, technology, engineering, The Arts, Math) grants that enhance the curriculum and provide experiential learning for Council Rock's 11,000 + students. In the last eleven years, 111 innovative teacher grants have been awarded along with districtwide grants that impact entire grade levels. Such grants include our new Busy Bee Bots Kindergarten program and our 4th Grade Embryology program.
Each year I give because I know I can make a difference in the life of a child through innovative education. Please join me today, and make your tax-deductible gift of $10, $50 or more, and together we'll grow more opportunities for our kids.
Our children are natural scientists, engineers, and problem-solvers. As such, they constantly try to make sense of the world around them through touching, tasting, building, dismantling, creating, discovering, and exploring. With your support, the Education Foundation will continue to provide access to quality, innovative S.T.E.A.M. learning opportunities. CREF's goal is to cultivate young minds in developing their critical thinking skills and creativity, so they may become tomorrow's problem solvers and innovators, resolving the most pressing challenges facing our world.
Thank you for your consideration. Wishing you and your loved one's peace, health, happiness, and prosperity in the coming New Year.
Sincerely,
Gail Acosta                                                                                                                                                                                      Executive Director, Council Rock Education Foundation
P.S. Make your charitable tax-deductible gift by December 31. To make your annual fund gift online today, click here.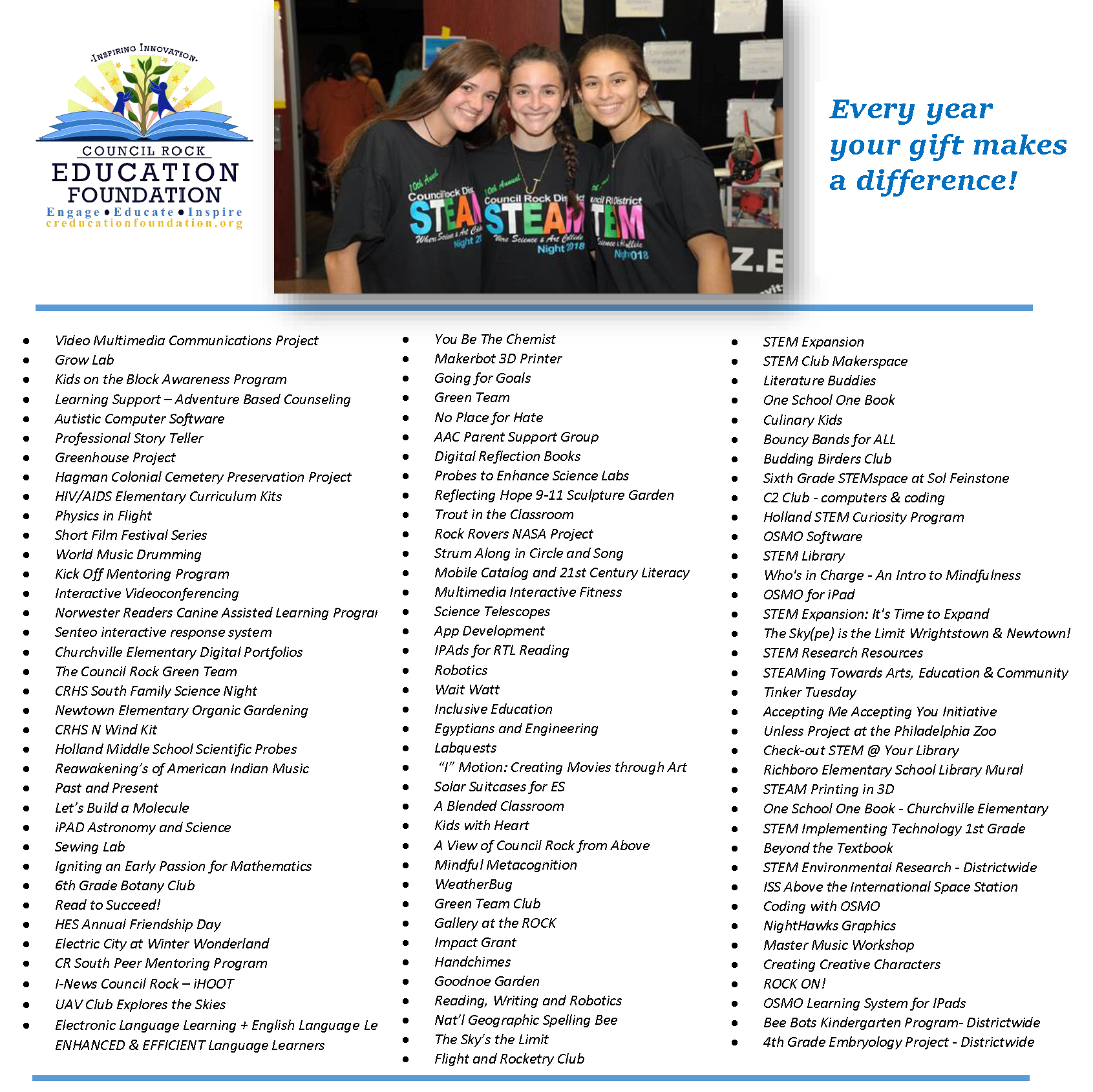 ---
WAYS TO GIVE
Mail: Kindly include your check to CREF, 30 N. Chancellor Street, Newtown, PA  18940.
Online: Gifts can be made online. Click HERE to donate today!
Matching Gifts: Many employers have programs that may double or even triple your gift. Ask your employer about matching charitable gift opportunities.
Other Ways to Give: Please contact Gail Acosta, Executive Director of the Council Rock Education Foundation at 215-944-1023 or gacosta@creducationfoundation.org for other ways to give (gifts of appreciated securities, planned giving, real property, etc.).
---