Every year your gift makes a difference!

December 8, 2017
Dear Council Rock Community,
As we head into the season of giving, I want to share with you some important news about a charitable organization that makes a tremendous impact on our children every day here at Council Rock.
For the last decade, the Council Rock Education Foundation (CREF) has been a valuable resource for our district. Awarding more than $215,000 in grants to teachers and classrooms in Council Rock schools, with help from generous donors like you, CREF provides the additional tools and resources beyond the reach of the annual school budget. If you are a partner in this success, thank you for your support.
With the help of CREF, students experience innovative, hands-on STEAM (science, technology, engineering, the arts and math) projects such as STEM and Coding Clubs, twenty-first-Century Literacy, Embryology, Arts and the Creative Economy, Environmental Engagement and Youth Leadership, just to name a few. Such projects help engage students and naturally inspire a love of learning. In addition, CREF presents the Council Rock District Science Night each spring and hosted the Raising Great Kids Speaker Series for the last five years. These educational opportunities truly make a difference in the lives of our families.
Each year, I make an annual gift in support of the Council Rock Education Foundation. Today, please join me as your tax-deductible gift of $10, $50 or more, allows the Foundation to grow their innovative projects that directly benefit Council Rock District teachers and students.
As a CREF board member, I am honored to highlight the Foundation's ten-year anniversary of supporting creative projects, and I hope you join me in building upon that continued success. Our collective partnership with CREF demonstrates Council Rock School District's promise of, success for every student, every day.
Thank you for your consideration.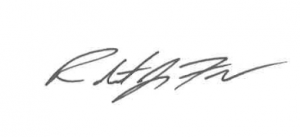 Sincerely,
Dr. Robert Fraser
CRSD Superintendent of Schools and CREF Board Member
P.S. Make your charitable tax-deductible gift by December 31. To make your annual fund gift today, go online to www.creducationfoundation.org/annualfund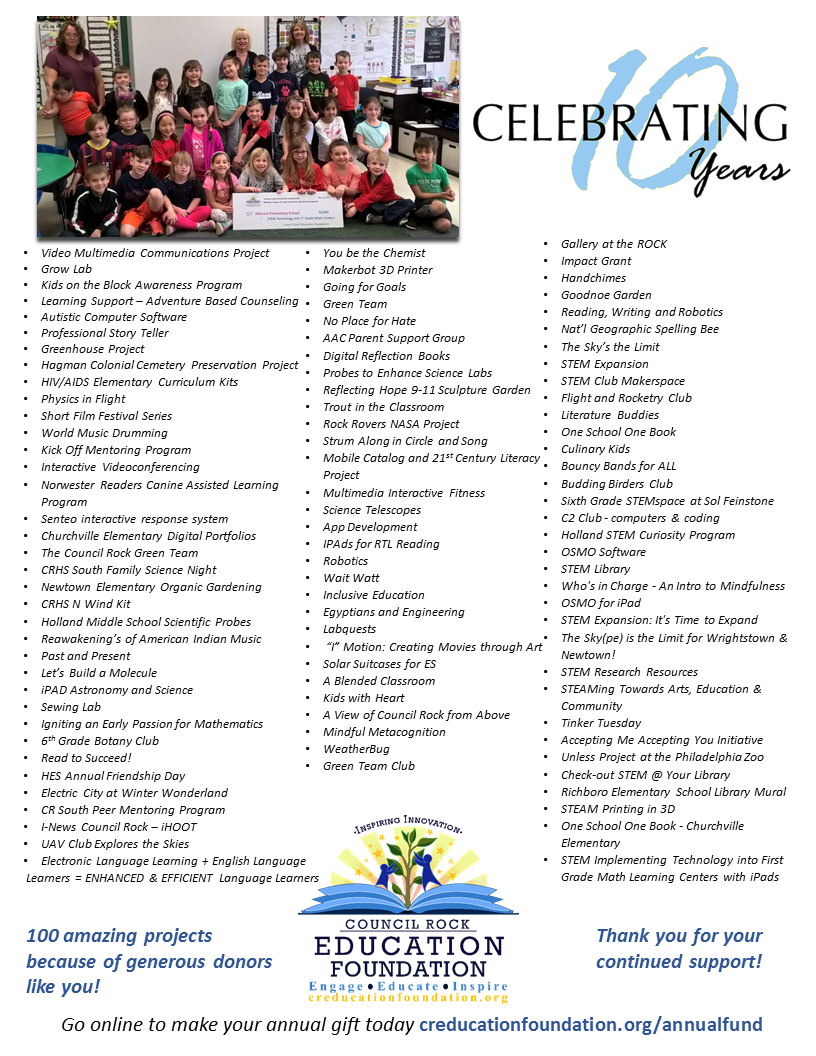 ---
WAYS TO GIVE
Mail: Kindly include your check to CREF, 30 N. Chancellor Street, Newtown, PA  18940.
Online: Gifts can be made online. Click HERE to donate today!
Matching Gifts: Many employers have programs that may double or even triple your gift. Ask your employer about matching charitable gift opportunities.
Other Ways to Give: Please contact Gail Acosta, Executive Director of the Council Rock Education Foundation at 215-944-1023 or gacosta@creducationfoundation.org for other ways to give (gifts of appreciated securities, planned giving, real property, etc.).
---