Raising Great Kids Speaker Series
Raising Great Kids Speaker Series 2016-2017
Next presentation –  Thursday, May 25, 2017. Click HERE to register.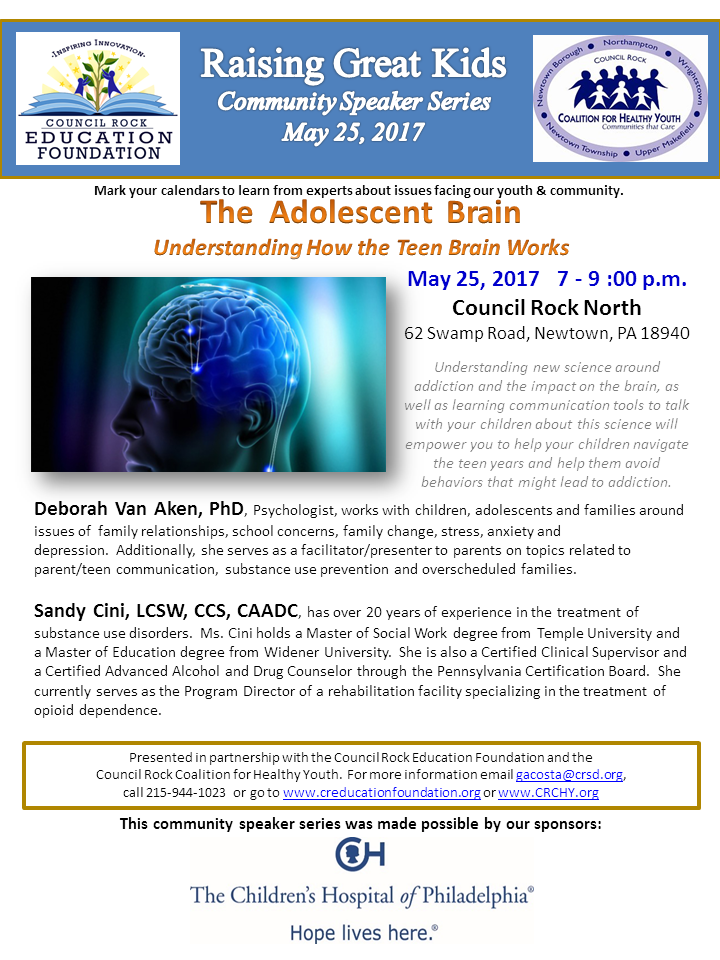 ---
Thank you, Mary Worthington of NOVA!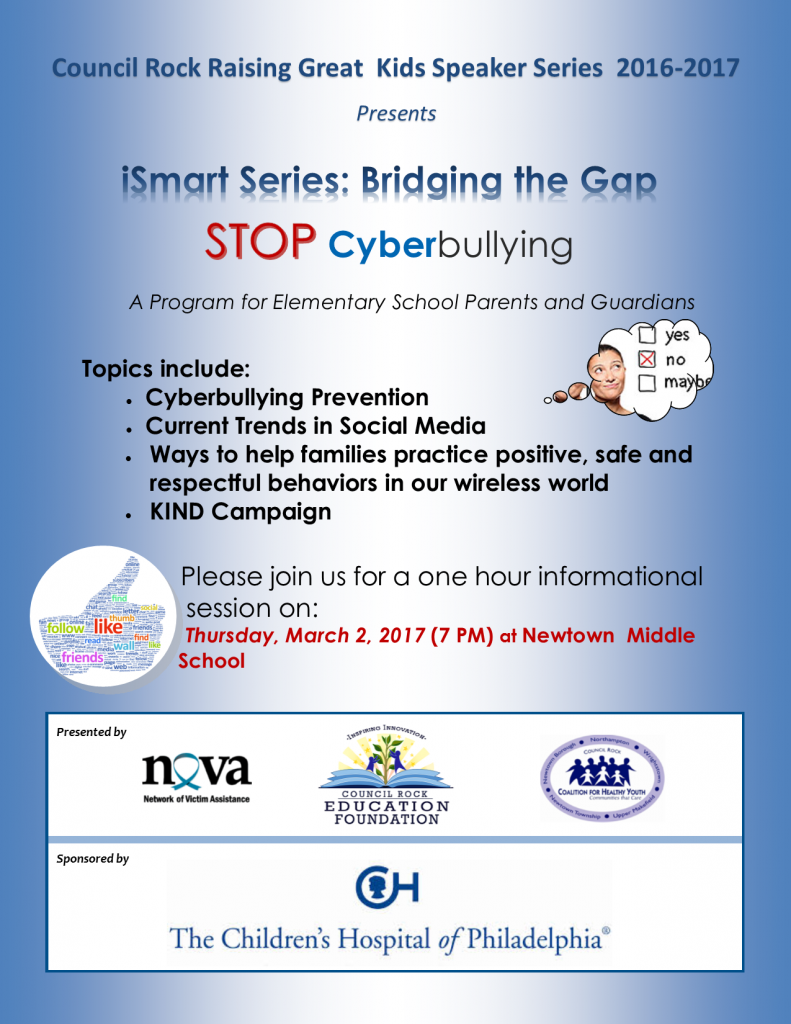 ---
Thank you, Francine Block for helping parents and students taking their next steps towards higher education! 
COLLEGEPREP 101: What to Expect – Parents and Teens Working Together for the Next Step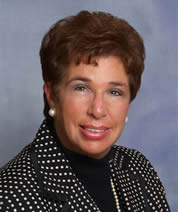 For parents, guardians and their high school students
Preparing for college will not only help students get into the school of their choice, it can also help them learn the skills to succeed later on in college and the job market. Which tests to take before applying to college, choosing a major or career focus, or learning how to select the correct fit, students have a long and exciting road ahead of them with many options. Francine Block, President of American College Admissions Consultants, will lead this conversation to help you and your family avoid some of these obstacles, make the right decisions and take the steps necessary to succeed.
January 31, 2017 –7:00 p.m. Newtown Middle School  – Register TODAY!
---
Thank you for all that attended this event. Special thanks to Dr. Carson-Sacco for sharing her insight and expertise.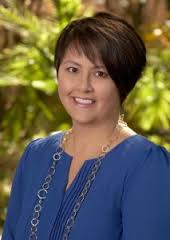 Parenting in the 21st Century: we never got a handbook!
Presented by Dr. Christina Carson-Sacco, Licensed Clinical Psychologist of The Center for Neuropsychology & Counseling. Dr. Carson-Sacco will address a variety of parenting topics that apply to children of all ages. Learn about your parenting style, what to expect, how development interacts with our parenting, how to meet both your own and your child's needs, how to insulate your child to stress, and how to deal with technology. Come away with specific strategies that will help you raise healthy children."
Thursday, October 13, 2016 – 7:00 p.m.  Council Rock High School North Auditorium
---
The Raising Great Kids Speaker Series is made possible by:

Check back for upcoming more upcoming events soon.
---
2015-16 Raising Great Kids Series:
Instagram and Snapchat for Parents
Tuesday, April 5, 7 PM
COLLEGE: How to find the perfect "fit" for your child
Wednesday, January 20, 7 PM featuring Francine Block
INTERNET SAFETY: What parents need to know to keep kids safe
Thursday, November 12, 7 PM featuring FBI Special Agent Cerena Coughlin
ANXIETY: How to help your child cope with stress 
Tuesday, Oct. 20th, 7 PM featuring Dr. Katherine Dahlsgaard
Click HERE for a copy of Dr. Dahlsgaard's presentation and other resources.
---
2014-15 "Raising Great Kids" Speaker Series:
RESILIENCE  – Dr. Ken Ginsburg – October 23, 2014
Smartphones to Social Media:  Teens and Technology – February 24, 2015
Positive Parenting – Community Conversations – March 25, 2015
REBOUND: The Chris Herren Story – April 8, 2015
For copies of materials from the 2014-15 Speaker Series events – click here
---
2013-14 "Raising Great Kids" Speaker Series:
Straight Talk for Parents
Bullying:  What You Need to Know
Internet Safety
Under Pressure:  Anxiety and Resiliency
For copies of materials from the 2013-14 Speaker Series events – click here