Council Rock "Artist in Residence" Memorializes Newtown Middle School
Limited Edition Painting to Benefit Council Rock Students – NOW Available
by Katherine Sekula
Up until now, I feel like I've spent my entire adult life at Newtown Middle School (NMS). I'm definitely one of the few teachers who spent 35 plus years there, and despite it's lack of "modern conveniences" (OK, functional plumbing, A/C, cleanliness, etc.), I have grown fond of the building, and will be sad to see it go.  I thought perhaps retired English teacher Patricia Liddie, when referring to the demolition of NMS, put it best:
"Having been a student at Newtown and then 35 years a teacher, I must admit how sad I am at its being torn down. Oh, I know one could say that the spirit will remain in the new building. Not for me. And will it have windows? And will it have squirrels watching class as they lie upon the branch of the tall Tulip tree beside your classroom? And will it have echoes of all of its incarnations? I know that I no longer have to worry about whether a toilet flushes in the Girls room or if rain leaks into my classroom through the windows. I understand the need for a new building. But sterility that comes with the new will never replace the warmth of the old. I won't be there to watch it come down."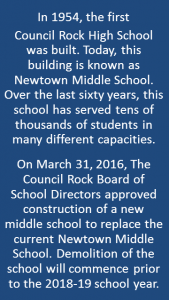 As Newtown Middle School's longtime "artist in residence," I felt that it was almost my duty to record the building's likeness in my favorite medium of watercolor. I wanted to preserve its image, paint it at its best. I thought that teachers like Patricia, and families who had two or maybe even three generations pass through NMS might want a copy of my painting as a memory of time spent there as well. I decided to get a limited edition of 100 giclee prints made; they will be signed, numbered, printed on 140 lb. Arches watercolor paper and protected in clear plastic sleeves (no mat or frame).  The image is 11"x15" but with a 2 ¼ " mat and leaving a border for the signature, it fits into a 16×20" frame. Since this is my last year with Council Rock, I wanted to do something that will be of lasting benefit to the district, so I decided to donate the profits to the Council Rock Education Foundation. The district art teachers voted to purchase one of the prints to be framed for the new Newtown Middle School. I guess that this is my small way of leaving a lasting impression on CR.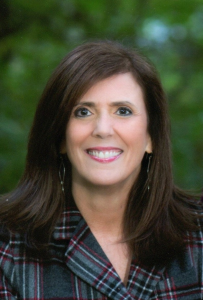 More about the Artist: I started as an art teacher at NMS in the fall of 1979. Actually it was Newtown Intermediate at that point, and my 6th-8th graders had art class twice a week for a semester. The first Council Rock District Art Show wasn't even held until the spring of my third year, in 1982. We then became a junior high school to alleviate overcrowding at the high school; the 6th graders went back to the elementary schools and the 9th graders remained. I had a 9th grade elective which met every day for the entire year. When South was built, we adopted the middle school model which we have today.
My son was born in 1994, and I took a year's sabbatical after his birth. I started taking watercolor classes at that time, not only to satisfy the requirements of the sabbatical, but because I'd always wanted to learn. I found that I loved the medium, and have been painting in what little free time I had ever since. Travel is another of my passions, and I was usually able to plan an interesting vacation every year. The subjects of most of my paintings are based on these vacations using the photos I've taken while traveling.
When my son entered high school, I found that I had even less free time. I was an active band mom, and am still a swim mom (my son's on the team at Swarthmore). I stopped painting for a few years, but started again with the Ivyland Painting Group over the last few summers, and hope to continue year round when I retire in June.